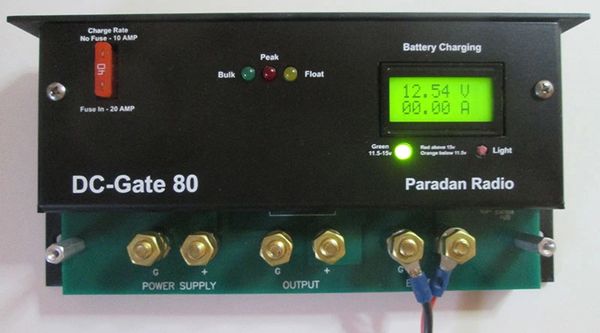 DC Gate 80
Paradan radio presents the DC Gate 80
This is a 13.8 volt high-power battery back-up system for powering your radio station, repeater, or other equipment. It can supply up to 80 amperes from either the power supply or the battery. Whenever the ac power is lost, this unit instantaneously switches from the power supply to the battery. The switching element is a dual Schottky Diode. There is a built- in four-stage 10-20 amp battery charger to rapidly restore the battery following a power outage. Charge current, and battery voltage, are displayed on the LCD digital meter. One-quarter inch brass studs assure robust electrical connections.
Specifications:
Power Supply Voltage: 13.8 - 15.0 volts
Battery: "12volt" GEL, or AGM type lead-acid batteries, any amp-hour rating
Current: 80 amperes maximum
Diode Drop: 0.3 volts @10 amperes.
Connectors: ¼ inch brass studs
Diodes: 120 Amp Schottky dual diode , Ixys DDSS2X-121
Charger: 40A FET controlled by UC3904 lead-acid battery charging IC
Charge Current: No fuse – 10 amps, fuse in – 20 amps maximum (fuse is only a jumper)
Charger LEDs: GN = Bulk Charge, YEL = Float charge, RED = Absorption charge cycle
Case: Sturdy 0.2 inch thick aluminum, painted black
Dimensions:
Mounting Centers:
Weight:
User Manual : Download PDF File