Dual Antenna Disconnector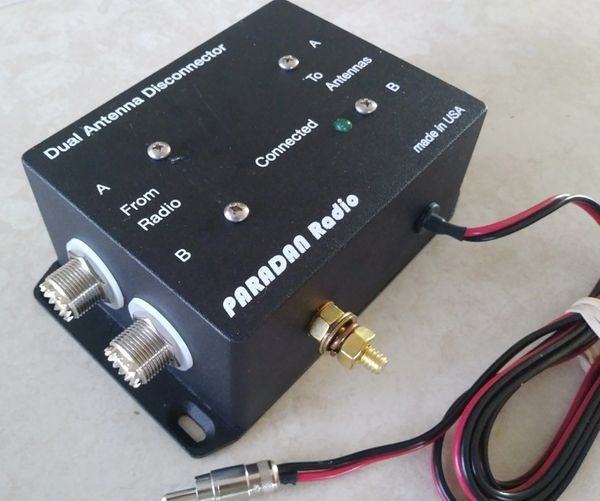 Dual Antenna Disconnector
Dual Antenna Disconnector

Reduce the chance of station damage from lightning surges.                                                                             
The Dual Antenna Disconnector automatically disconnects two antennas from your radio and grounds both antennas. The Disconnector prevents static-discharge, surges, and lightning-strike effects from damaging your radio and associated equipment.  When the transceiver is turned OFF, the antennas' signal and ground wires are shorted together and grounded, and both the coax centers and coax shields are disconnected from the radio.  When the transceiver is powered ON, the Disconnector re-connects both antennas for normal operating.  Power for the Disconnector comes from the transceiver's auxiliary power socket.  Or connect it to your power supply that you turn off when not operating . For those radios without an auxiliary power socket and you leave your power supply on , a separate unit, the Radio ON Sensor unit is used to sense if the radio is turned on. For correct operation the Disconnector requires a good earth type ground.  The unit comes with a Ring Terminal, four Barrel Connectors, and a Powerpole® pair.  The Dual Antenna Disconnector is excellent for protecting remote stations from lightning surge.                                               
Specification

s:

                                                                                       

® registered trademark of Anderson

. 
1.  Power Handling: greater than 1.5 kW on each circuit
2.  Insertion Loss:  < 0.05 dB @< 29 MHz, 0.4 dB @ 54 MHz, 1 dB @ 144 MHz
3.  Relay Operating Voltage:    10-18 Volts dc
4.  Current:  120 mA @ 13.8 V, when turned ON to connect antennas.
5.  LED:  Illuminates green when relays connect the antennas for operating
6. Relays: Four relays w/15 Amp contacts each, protected for reverse spikes
7.  Case: Grounded to antennas' and Isolated from radios' coaxial connector
8.  Control Wire: 6 Ft, two-conductor AWG 18 with RCA phono plug
9.  Control Input:  Diode protected against reverse polarity.  RF filtered.
10.  Active Lightning Protection:  Gas Discharge Tube on both Antenna inputs 
11.  Case Ground Stud:  One-quarter inch with washers, lock washer and nut
12    Case: Die-cast aluminum, black paint, white print, water resistant
13. Size: 6 x 3.8 x 2.2 in., tabs w/4holes @ 5.25 and 2.5 in. centers
14.  Weight: 1 lb., 10 oz