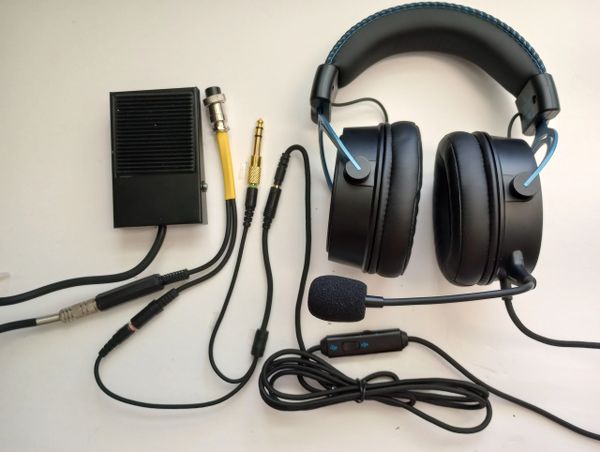 Headset with Footswitch
This is a Stereo Headset, a foot switch, and cable assemblies that plug into your radio's mic jack. It is our updated model called "Hi-Rate2".  The foot switch "push-to-talk" gives you hands-free operating for QSOs, DXing, and especially for Contesting.  Your hands are now free to enter the call signs and reports on the keyboard, while switching from receive to transmit by depressing the footswitch.  Logging is easier and contesting rate can increase dramatically.   Because radio's all have different microphone wiring we have six different cable assemblies available: Icom 8-pin, Icom RJ-45, Yaesu 8-pin, Yaesu RJ-45, Kenwood 8-pin, and Elecraft 8-pin.  Please specify when ordering. 
This commercial stereo headset is lightweight, comfortable, and easy to adjust. There is a volume control and a mic mute switch. Soft earpads effectively reduce background room noise. There is a volume control and a mic mute switch on the headset cable.  The sensitive electret microphone has a wind shield to reduce breath "popping" noise. The metal footswitch is sturdily made and requires minimum force to activate. 
Set Includes:
Stereo Headset, electret mic with windscreen
Metal Footswitch with 5 foot cable and 1/4 inch plug
Headset Splitter Cable, 1/8 in. stereo socket, two 1/8 in. plugs (pink band is mic out, green band is audio in)
Radio Mic Cable, Microphone 8 pin to 1/8 in socket and 1/4 in socket.
                 NOTE: Specify for Icom, Icom RJ-45, Yaesu 8-pin, Yaesu RJ-45, Kenwood, or Elecraft  
Adapter, 1/8 in socket to 1/4 in plug
Operator's manual